On this week's Daily Flash Minnow Weekly Report, I will like to talk about my trip to Redondo Beach, CA. It's been awhile since my last fishing trip here. In Redondo Beach, I mostly fish along the jetty, but this time I started fishing in the rocky area to the left side of my very first Redondo Beach Sport Fishing. I heard from a staff that at this fishing spot last week, 5 large 7 pounder Halibuts were caught! That definitely got my hopes up! And this time I have a fishing mission to complete: to catch some with the "Pointer 78 SR" in Metallic Sardine & NC Shell White. Unlike the Flash Minnow I usually use, the Pointer doesn't leap as much when casting, but it still does jump quite a bit!! The SR is called the "Shallow Liner", so when retrieving, let it swims on the surface in replication to a small fish. The technique I used this time was the combination of the general "slow retrieve" and "stop and go" actions. With that, I kept aiming around the legs of the bridge, but got nothing. The people who were using squids were catching a lot…. But unfortunately I got no fish today!! (I also tried using the FM110…)
I will carry it over for next time.
To all the Flash Minnow fans out there, this is the Lucky Craft new item news! Other than the "Big Fish Bait & Tackle" store in Seal Beach, you can also get a hold of some rare Flash Minnows here in Redondo Beach Sport Fishing store also. If you are interested, please come check this place out!!! (Depending on the size the colors may vary) Coming this fall, they are scheduled to have the new CIF PT100DD/FM120DD in stock also!! They are selling quite a few!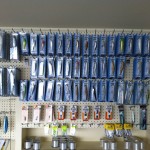 Redondo Sport fishing
http://www.redondosportfishing.com/  
Sandy
The Daily Flash Minnow
8,599 Comments