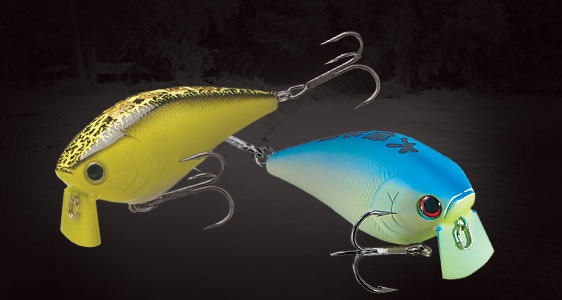 Longueur: 3" (75mm)
Poids: 5/8oz (18.0g)
Famille: Floating
Hameçon de corps: #
Hameçon de queue: #
Fil utilisé: lbs
Lucky Craft's new Fat CB is a non-rattle bait with our "gair floating concept". Thanks to optimized buoyancy made possible through the use of an intricate internal structure, this plastic crankbait behaves like a balsa wood lure and delivers outstanding obstacle deflection. The lip design and hook positions are specifically designed to come through the thickest of cover. Also, the Poids of this lure is intentionally fixed for quick recovery, after the bait hits an object to come back to the center of the retrieve. In addition, the Fat CB is crafted larger, creating a wide wobble and rolling action to attract fish in a wide spread area.
In the early 1990's, Lucky Craft set out to manufacture water-ready jerkbaits that suspended perfectly in the water column. Some said it could not be done – that reaching such a high level of quality control on mass manufactured hard plastics was impossible.
Lucky Craft's Pointer Series jerkbaits silenced the doubters and revolutionized the hard bait industry with jerkbaits that suspended perfectly right out of the package, every time.
In the late 1990's, Lucky Craft looked to do the impossible again: mass manufacture square-bill, wide-wobbling plastic crankbaits which would outperform the traditional buoyant balsa wobblers.
After hundreds of hours of research and development, Lucky Craft released the Fat CB Series in 2001. The first two Fat CB family members were the BDS 3 and BDS 4. Again, Lucky Craft succeeded in their quest for perfection.
"When it comes to crashing through cover with a fat-bodied, wide-wobbling shallow runner, there's no doubt that balsa has long been the king," says Marty Stone. "Balsa is very buoyant, but it's also inconsistent. Balsa crankbaits are like snowflakes: no two are identical.
PHOTO PRODUIT
CODE PRODUIT
COULEUR
UPC CODE
FATCBSSR-077OTS
Original Tennessee Shad
802897600772
FATCBSSR-084CHMG
Chart Magic
802897600840
FATCBSSR-085CRMS
Cream Soda
802897600857
FATCBSSR-286MDCR
Mad Craw
802897602868